[Hearthstone] Patchnotes zu Patch 4.0
---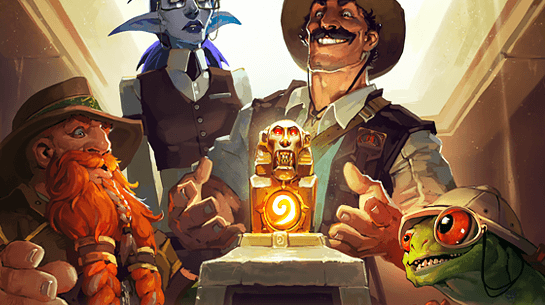 Blizzard gab in der vergangenen Nacht die aktuellsten Patchnotes für das aktuelle Hearthstone Update bekannt, das den Grundstein für das neue Abenteuer Die Forscherliga legt. Nachfolgend findet ihr die gesamten Patchnotes im Detail.
Allgemein
Das Abenteuer wartet! Schnappt euch euren Hut und schließt euch der Forscherliga an, um ein uraltes Artefakt immenser Macht zu finden! Dieses brandneue Abenteuer erscheint je nach Region am 12. oder 13. November und umfasst:

Eine Expedition durch vier exotische Flügel und 45 neue Hearthstone-Karten für eure Sammlung.
Zwei brandneue Spielbretter zum Erkunden und jede Menge anklickbare Sachen zum Entdecken.
Das neue Schlüsselwort "Entdecken". Wählt eine von drei Karten aus, die ihr auf eure Hand aufnehmen wollt, wenn ihr eine Karte mit dem Schlüsselwort "Entdecken" spielt.

Folgende Kartenrücken wurden hinzugefügt:

Schatzkarte – Für das Erreichen von Rang 20 oder höher im gewerteten Modus im Monat November.
Stab des Ursprungs – Für den Abschluss jedes Flügels der Forscherliga im heroischen Modus.
Blizzard 2015 – Für die Teilnahme an der BlizzCon 2015 oder den Kauf des virtuellen Tickets für die BlizzCon 2015.
Legacy of the Void – Für den Kauf der Digital Deluxe Edition oder der Collector's Edition von StarCraft II: Legacy of the Void.
Es wurde ein Fehler behoben, durch den verschiedene Fallen ausgelöst wurden, wenn eure Seite des Spielbretts oder eure Hand voll waren.
Es wurden diverse Fehler beim Gameplay und beim Verhalten der KI behoben.
Es wurden diverse Fehler im Bereich Audio, Grafik und Benutzeroberfläche behoben.
Quelle und Screenshots der Kartenrücken: Patchnotes 4.0 Blizzard